Assisting Childhood Education through Increased Testing
Statement of Problem
Important Update:
Abbott BinaxNow Test Expiration: These Lot numbers are impacted by this new extension. All of the tests can now be scanned utilizing the Penn Rapid Test App and therefore can be used again for testing in schools.
Please prioritize the use of these tests before those with a later expiration date. Most of these tests will expire again sometime between mid-February and March so they should be used first.
**
Throughout the COVID-19 pandemic, finding ways to safely reopen schools for in-person learning has been a pressing need. Schools are at the heart of our communities, providing a critical outlet for children through education, safety, nutrition, behavioral health care and important opportunities for social interaction. While incredible efforts were made to transition to virtual learning and ensure continuity in education, there is no substitute for in-person instruction or the crucial resources that brick-and-mortar schools provide for children, their families and communities.
While many school districts across the United States and around the world have now successfully resumed in-person learning, and evidence suggests that schools have not typically been a significant source of COVID-19 spread, maintaining a healthy learning environment in which both students and staff feel safe has been a challenge. For children who are most in need of in-person education—such as those with special needs, who may not be able to adhere to physical distancing or wearing masks—and the educators who support them, this challenge has been particularly salient. Multiple, layered strategies—including the COVID-19 vaccines—have and will continue ensure that safe in-person learning can occur.
Description
Assisting Childhood Education through Increased Testing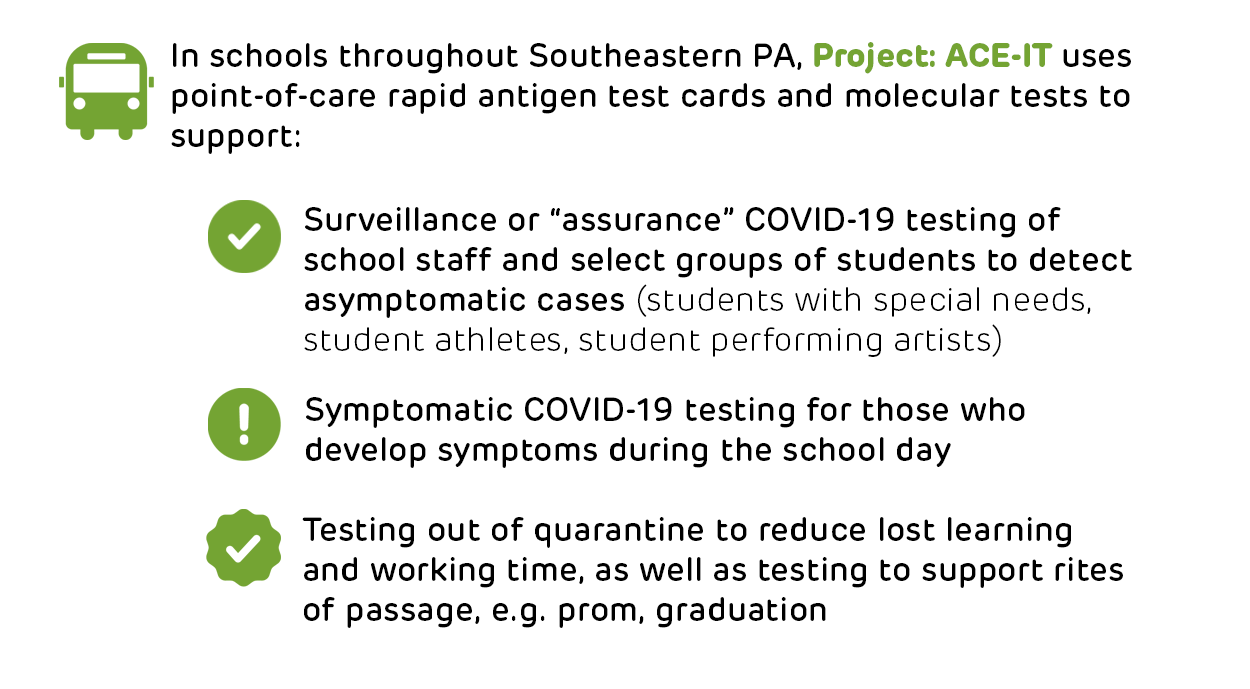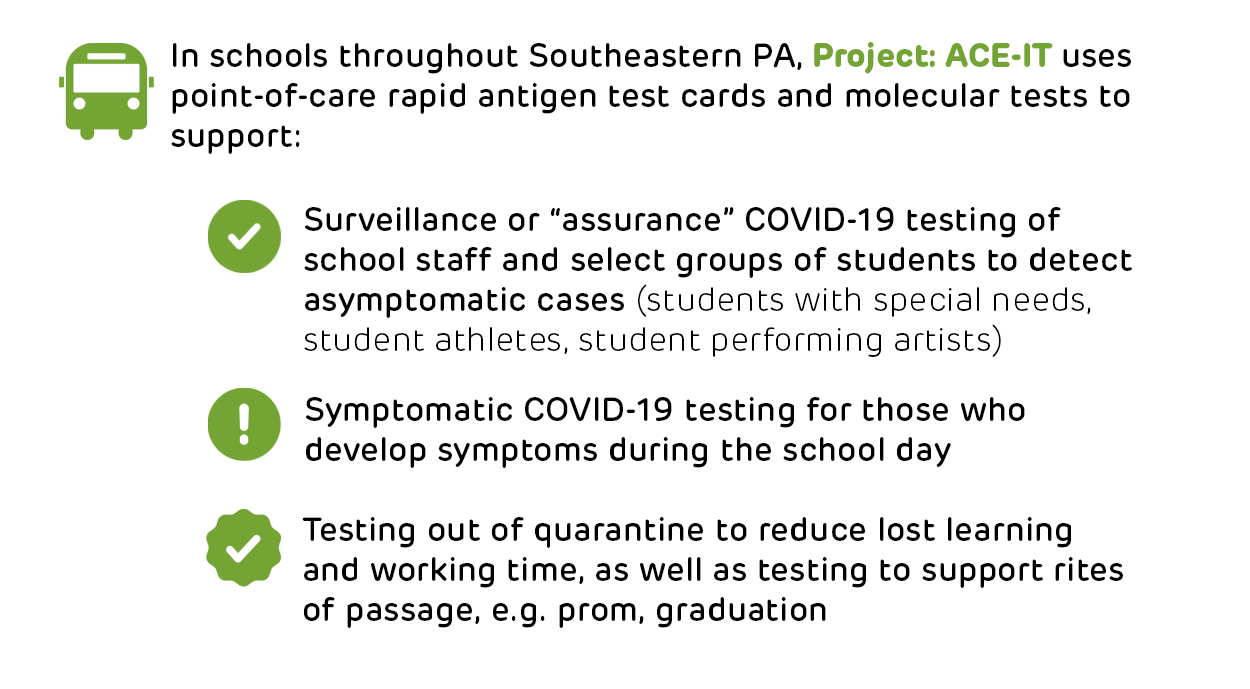 We are sharing our lessons learned to help other regions who are interested in developing similar programs to protect their communities and support future public health preparedness efforts.
A Public Health Approach
The Project: ACE-IT community shares a common belief that adding routine school-based COVID-19 testing to existing infection-control measures can help maintain a safe, healthy environment for in-person learning by reducing opportunities for transmission while minimizing unnecessary prolonged school absences. The introduction of COVID-19 vaccines for those ages 12 and over provides yet another layer of protection for those who receive them, with data showing that being vaccinated provides protection from illness and helps reduce the potential for transmission of the virus to others. We are actively supporting efforts toward vaccine uptake for those who are eligible yet recognize the need to assure in-school safety for children under 12 who are not yet eligible for vaccination. We continue to support various COVID-19 testing models for schools into the 2021-2022 school year. Still, masking, distancing, and hand hygiene remain essential in communities during times of substantial-to-high transmission rates or with low vaccination rates.
For more information on the COVID-19 vaccine, please check out the CHOP Vaccine Education Center.
Strategy
Starting in early 2021, with support from Children's Hospital of Philadelphia (CHOP), local health departments, and education leaders across southeastern Pennsylvania, we launched Project: ACE-IT, and its work has been growing and evolving ever since. Project: ACE-IT aims to reduce the risk of in-school COVID-19 transmission through the use of rapid, point-of-care COVID-19 testing and has bolstered confidence that safe, in-person learning is possible. Modeled after a similar public health initiative launched in Texas in the fall of 2020, Project: ACE-IT has used point-of-care rapid antigen test cards and molecular testing to support two complementary testing strategies: 1) Surveillance or "assurance" testing, which tests asymptomatic staff and students routinely to detect asymptomatic or presymptomatic infections; and 2) Symptomatic testing, for those who come to school feeling well but develop COVID-19-like symptoms during the school day.
Both strategies meet a critical public health goal of identifying those with COVID-19—particularly those at greatest risk of transmitting to others because they are unaware that they may be contagious—so that they can be isolated immediately.
Over the late winter, participating schools became increasingly proficient in conducting school-based testing. In spring of 2021, Project: ACE-IT supported additional testing strategies for schools and districts that expressed interest. This has resulted in a "testing out of quarantine" program, which reduces loss of classroom learning time by allowing students to return to school on day eight after an exposure, provided they remain asymptomatic and test negative for COVID-19 between days five and seven after last exposure. Schools have also introduced routine testing for student athletes and performing artists to revitalize extracurricular activities, as well as hosted mass testing events to allow for participation in rites of passage such as prom and graduation.
As the school year begins in Fall of 2021, Project: ACE-IT continues to support school-based COVID-19 testing in ways that make best sense according to public health guidance, each school community, and the changing epidemiology of COVID-19. One timely change is a partnership with the CHOP Infectious Disease Diagnostics Laboratory, which offers PCR tests with rapid turnaround of highly accurate results and supports the region's need to monitor for new variant strains of COVID in our communities.
Training & Technical Assistance
PolicyLab and CHOP experts guide the implementation of Project: ACE-IT in participating schools across the Greater Philadelphia region, using a "train-the-trainer" model to create sustainable programming within the schools.
Certification Process for BinaxNOW Test
There are three steps for becoming certified to run the rapid antigen test:
1. Attend a virtual training. Current dates are:  
Monday, 8/23: 12p-1p
Monday, 8/23: 4p-5p
Wednesday, 9/8: 8a-9a
Friday, 9/10: 12p-1p
Monday, 9/13: 12p-1p
Tuesday, 9/14: 8a-9a
Thursday, 9/16: 4p-5p
Registration link: https://forms.gle/tFv1wfqxqZxDgNi59
2. Take the e-quiz: https://redcap.chop.edu/surveys/?s=PYRDL3M3PE389W9C; and
3. Participate in an in-person skill validation, arranged in coordination with your local health department and CHOP.
Our Project: ACE-IT Training Materials packet allows those who are already certified to run the BinaxNOW test to turn around and train their colleagues to do the same. Please print and distribute this packet for your in-house skill validations.
Support for Reporting Results to Public Health: PA Rapid Test Application
Rapid reporting of test results to public health is essential for case investigation and contact tracing. Project: ACE-IT has offered implementation support and technical assistance for using an online data reporting solution developed specifically for our school-based testing program.
Click here to register for a PA Rapid Test App account or to register your school or organization's testing site(s).
Click here for an example of the automated email you should expect to complete your account registration.
Click here for more guidance on using the PA Rapid Test App, including bar codes to enter dummy data.
Curious About Data Flow from the PA Rapid Test App?
Test subjects' demographic data, answers to clinical questions, and test results are entered into the app and sent immediately to a secure server.

Data do not remain on the device being used to enter data.

Once a day, all data on the secure server are encrypted and sent to PA Department of Health (DOH), your county health department and the Centers for Disease Control and Prevention (CDC).
Local/county health departments (with the exception of Phila. Dept. of Public Health) also receive relevant data from PA DOH on a periodic basis.

Data do not flow to CHOP, Penn or anywhere else other than public health authorities as required by law.

During testing events, positives are to be reported immediately to your local/county health department for contact tracing per your school's existing protocol.
Questions for those in any stage of school-based testing? Join the conversation: bit.ly/Project-ACE-IT-Slack
Resources
FAQs & test disbursement logistics
Implementation planning
Consent: There is no CHOP consent for this program. The examples below may be adapted to support your school's consent requirements for testing.
QR Code – How To: for schools to embed in their communications to staff and families so they can create personalized QR codes in advance of testing
Sec. of Health Order re: CLIA: allows schools to function as testing sites under an existing Clinical Laboratory Improvement Amendment waiver
Implementation Template: based heavily on Upper Perkiomen's plan
Testing guidelines by county
COVID-19 tests
Demo videos
CDC Classroom Mapping Project: please reach out to your superintendent to find out if your school is involved.
Next Steps
As of August 2021, Project: ACE-IT has launched school-based testing in over 570 unique sites throughout the Greater Philadelphia region and trained almost 1,200 test proctors through its train-the-trainer model. We will continue to work with local health departments, education leadership and school personnel to support those in all stages of program implementation.
As with any public health intervention, we will evaluate Project: ACE-IT's outcomes on an ongoing basis and make changes when needed to improve the program and pivot in response to shifts in community transmission rates over time. We plan to share our lessons learned to help other regions who are interested in developing similar programs to protect their communities and provide a robust infrastructure for public health response in the future.
We will update this page regularly to reflect developments. 
This project page was last updated in October 2021.
Suggested Citation
Children's Hospital of Philadelphia, PolicyLab. Assisting Childhood Education through Increased Testing [Online]. Available at: http://www.policylab.chop.edu. [Accessed: plug in date accessed here].