Ensuring the Future of Health Care Coverage and Access for Children and Families
Statement of Problem
Health insurance coverage, particularly for children, is facing a time of significant transition. Numerous moving parts are working in tandem to steer public and private coverage in new directions. In the decade prior to the passage of the Affordable Care Act (ACA), working families started to see significant changes to the affordability of health insurance coverage for their children. While many of these families have comfortably enjoyed employer-sponsored insurance (ESI) for some time, others have begun to feel the effects of increasing coverage costs—in less than a decade, family premiums and deductibles have nearly doubled, far outpacing the growth in median household income.
Families seeking affordable coverage options for their children have turned to public insurance programs like Medicaid and the Children's Health Insurance Program (CHIP), which offer low- or no-cost, comprehensive and child-specific plans. Thanks to these programs, the U.S. achieved nearly universal rates of children's health insurance coverage—more than 95% in 2016. Unfortunately, this accomplishment is already being undermined. Data published in late 2018 showed the first-ever drop in overall insurance rates among children in nearly a decade, and another report found that 828,000 fewer children enrolled in Medicaid and CHIP in 2018 than 2017, likely due to increasing enrollment restrictions in states. If persistent threats from lawmakers to dramatically cut or change these programs becomes reality, we would undoubtedly see even more children without access to the health coverage they need to become healthy, productive adults.
Description
Health Insurance Coverage of Children In Working Families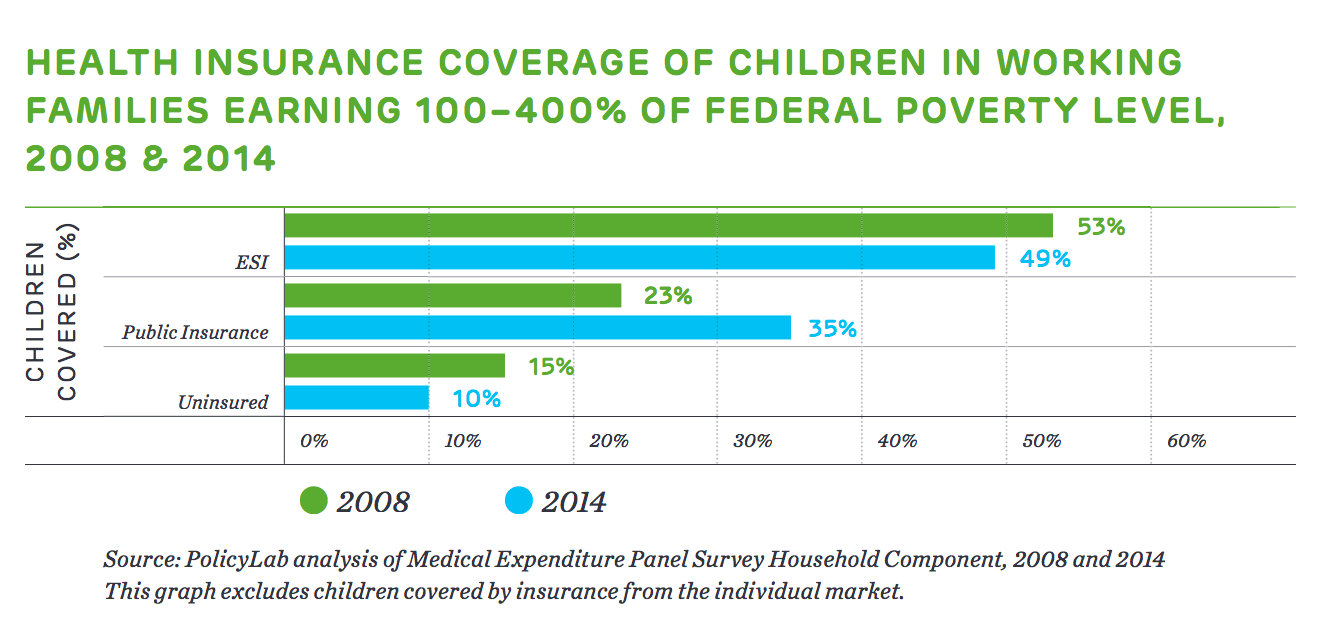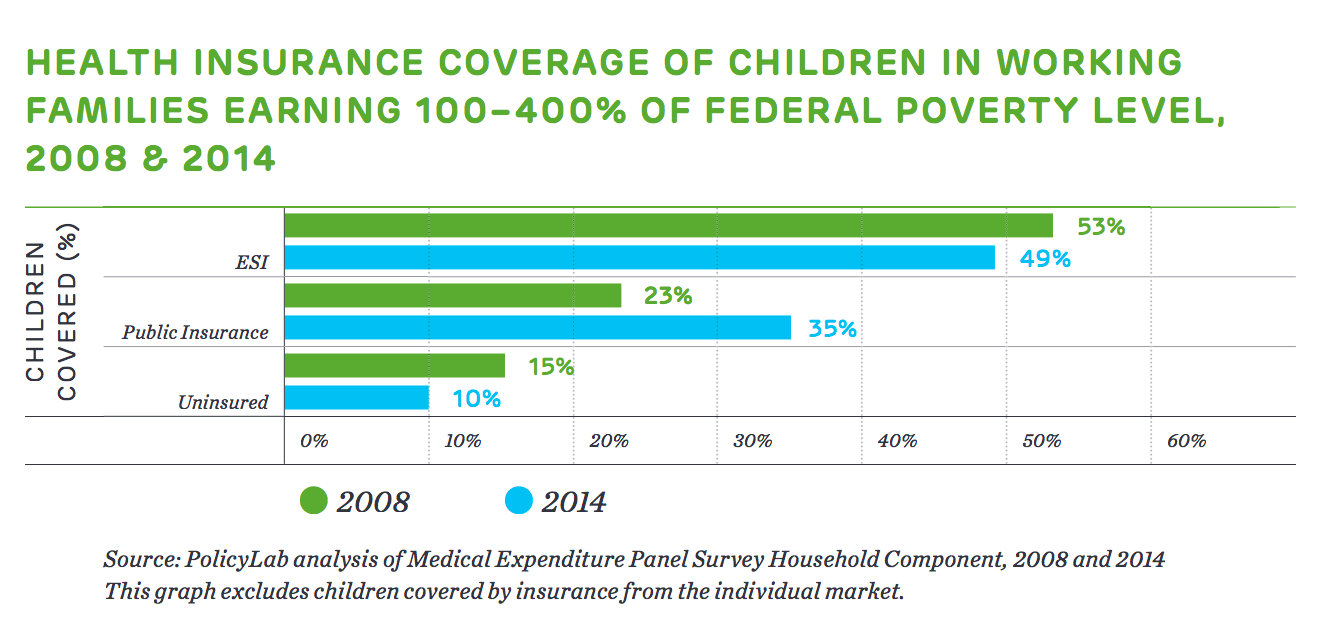 Today, more and more low- and moderate-income working families (earning 100–400 percent of the Federal Poverty Level) are shifting their children to public insurance.
Our research aims to understand how both public and private insurance meet the health care needs of children and families. In 2016, PolicyLab researchers examined the coverage rates for children from low- or moderate-income households in which at least one parent had ESI from 2008-2013. We found that low- and moderate-income families increasingly moved away from covering their children through ESI. In 2013, 15.2% of children in families with incomes of 100-400% of the federal poverty level (FPL) (or $23,550-$94,200 annually for a family of four) were not covered by their parents' ESI, but by public insurance offered through Medicaid or CHIP—an increase from 12.1% in 2008. This phenomenon of splitting insurance was greatest in families with incomes of 200-299% of FPL as, in 2013, roughly one in eight families in this income bracket insured their children through CHIP or Medicaid. Additionally, among families within this moderate-income bracket, we found an increase in uninsurance, likely due to more restrictive eligibility levels for CHIP and Medicaid in their states—early evidence of an erosion of the health coverage for children. 
Following this study, we wanted to understand where parents worked and if that impacted their children's likelihood of being covered by Medicaid and CHIP. We conducted a national study, published in Health Affairs in 2019, of working families making more than 100% of the FPL, categorizing parents by whether they worked for small or large, private companies or were employed in the public sector. Our findings showed that low-income families, with parents working at all employer types, increasingly enrolled their children in public insurance between 2008-2016. This was particularly true among low-income parents working for small businesses—public insurance coverage for kids in these families jumped from 53% in 2008 to 79% in 2016. However, our most surprising finding was that of the 8.6 million children in working families who are covered by public insurance, more than 70% have a parent who works at a large, private company. This indicates that even in sectors that have historically provided more robust health benefits to their employees, employer-sponsored dependent coverage is becoming prohibitively expensive for working families. Medicaid and CHIP, which for decades have provided a safety net for some of our nation's most vulnerable youth, is now serving as a key structural support to millions of middle-class working families.
Next Steps
Our research illustrates a dramatic shift in the landscape of children's health insurance coverage, which is occurring at a much faster pace than substantive policy discussions about what high-quality, accessible coverage looks like for all children in the future. PolicyLab's research and policy teams continue to investigate and work with key stakeholders to determine crucial policy levers to maintain and increase access to health care coverage for children and families. Using our research, we aim to preserve Medicaid and CHIP as comprehensive programs with eligibility requirements that reflect the families depending on them for affordable, high-quality care for their children.
This project page was last updated in September 2019.
Suggested Citation
Children's Hospital of Philadelphia, PolicyLab. Ensuring the Future of Health Care Coverage and Access for Children and Families [Online]. Available at: http://www.policylab.chop.edu [Accessed: plug in date accessed here].