Positive Parenting Program to Improve Problem Behaviors in Preschool-age Children (PriCARE)
Statement of Problem
Behavioral problems are common in young children. Approximately 11%-20% of children in the United States meet diagnostic criteria for a behavioral health disorder at any given time. Children with behavioral problems enter kindergarten disadvantaged in language, motor, social and school readiness skills, and are at increased risk of poor long-term academic outcomes. Behavioral problems are also associated with increased risk of substance abuse, anxiety disorders, attention-deficit/hyperactivity disorder (ADHD) and suicide. Furthermore, children with behavioral problems are at increased risk of harsh parenting and physical abuse.
Problem behaviors from young children can provoke negative and reactive parenting responses, which, in turn, increases the child's behavior problems. Parenting interventions that promote positive, authoritative parenting (characterized as reliable, dependable and nurturing) can reduce the severity and frequency of behavioral problems, decrease parental stress and reduce the risk of child maltreatment.
The pediatric primary care setting is an ideal venue to provide parent training and support. Between 25%-50% of pediatric office visits involve behavioral or emotional concerns. While some patients may require referral to a behavioral health specialist, many children may not need intensive, ongoing behavioral health treatment, especially in the early, formative years when these problem behaviors first develop. Providing a family-centered positive parenting program in the setting of the child's primary care pediatrician could support parents and prevent future severe behavioral health problems in their children.
Description
PriCARE to Improve Problem Behaviors in Preschool-Age Children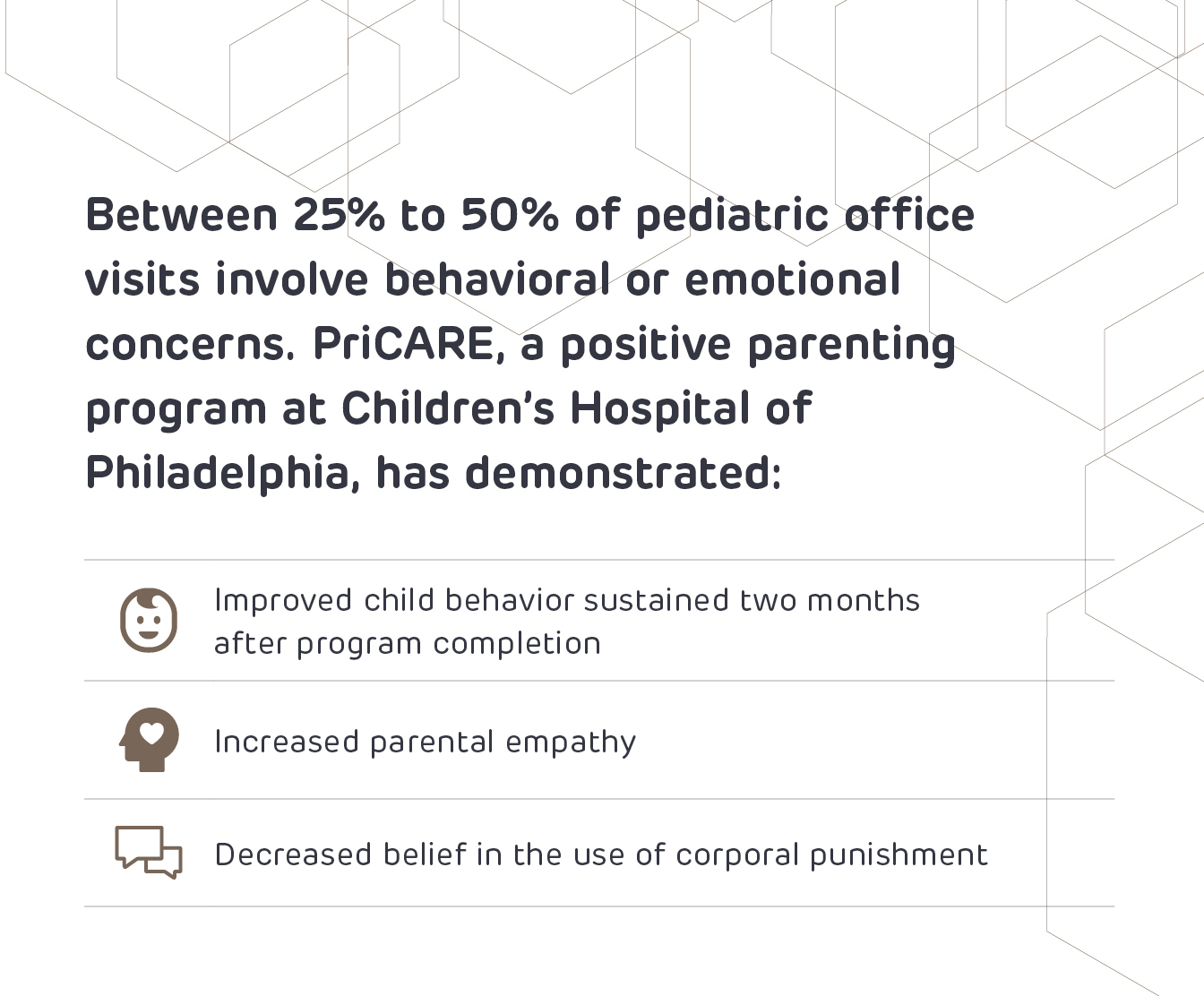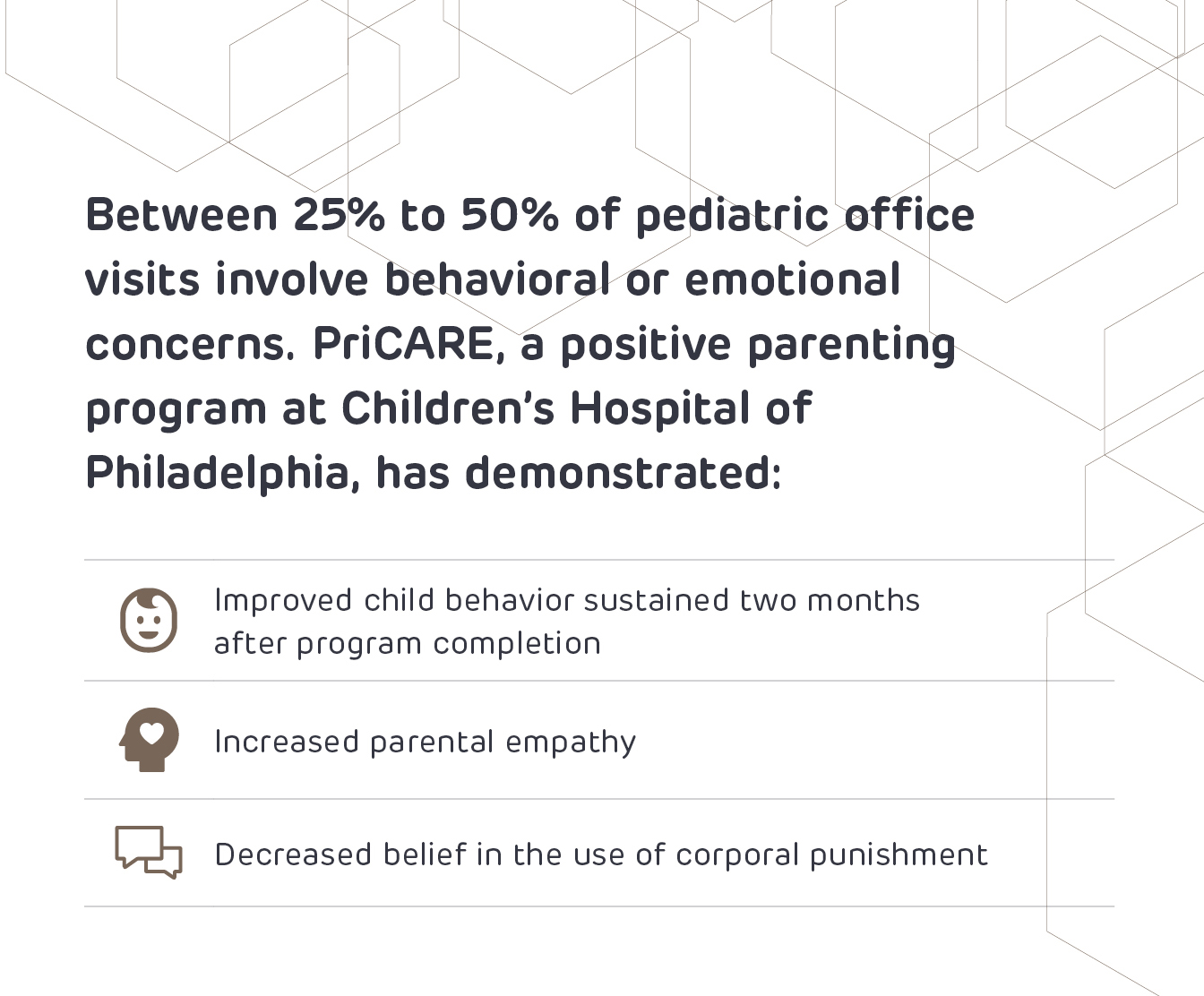 Recognizing the untapped potential of the pediatric primary care setting for addressing children's behavioral problems, Dr. Joanne Wood and colleagues from Safe Place: The Center for Child Protection and Health and the Department of Child and Adolescent Psychiatry and Behavioral Sciences at Children's Hospital of Philadelphia (CHOP) modified an existing intervention called Child–Adult Relationship Enhancement (CARE) from the Mayerson Center for Safe and Healthy Children. Together, they developed PriCARE, a trauma-informed group-training program hosted in the primary care setting that teaches caregivers techniques to support the social and emotional growth of their children. As a group-training program for parents, PriCARE is designed to improve child behavior, strengthen parent-child relationships and decrease parental stress. 
In the first study of its kind, Dr. Wood and colleagues tested the effectiveness of PriCARE through a randomized controlled trial at CHOP's primary care facility in South Philadelphia. The study team enrolled 120 families and found that children whose parents participated in PriCARE had significant short-term improvements in behavioral symptoms. Additionally, after attending the PriCARE intervention, parents reported improvements in several common parenting behaviors that are felt to influence child behavior. These include decreased belief in use of corporal punishment and increased empathy toward their children. Academic Pediatrics, one of the premier medical journals, published the findings of this research trial.  
Encouraged by the positive findings from the initial PriCARE evaluation, the team has now expanded the capacity of PriCARE to reach more families. Currently, PriCARE is being offered to caregivers of children ages 2 to 6 at five CHOP primary care network sites (Karabots, Cobbs Creek, Main Campus, Drexel Hill and South Philadelphia).
Recently, Dr. Wood and her team enrolled approximately 180 parent-child pairs in a second, larger PriCARE evaluation. Utilizing direct observation methods, the team conducted video observations of children's behaviors on a subset of participants and conducted qualitative interviews with parents to inform program improvement efforts. The team developed and is piloting and evaluating new technological advances—such as a text messaging platform and demonstration videos—designed to increase engagement with parents and reinforce key skills between weekly, in-person sessions. They also recently launched the PriCARE for foster parents program, and are planning to pilot PriCARE for Spanish-speaking families and to expand to additional locations. Dr. Samantha Schilling, a former CHOP fellow, is also leading the effort to implement and evaluate PriCARE in North Carolina.
Next Steps
Although PriCARE has shown promise as an effective parent training program in strengthening the child-caregiver relationship and providing caregivers the skills to nurture positive child behavior, further implementation and evaluation of PriCARE is warranted to establish if these improvements are generalizable to other populations. Additionally, given the lessons learned by this research team, evaluating barriers and facilitators to engagement and retention in PriCARE will be important. Dr. Wood plans to build on PriCARE's preliminary evidence by continuing to rigorously evaluate and improve this model.
For more information about PriCARE, visit www.chop.edu/centers-programs/pricare-parenting-program.
This project page was last updated in September 2019.
Suggested Citation
Children's Hospital of Philadelphia, PolicyLab. Positive Parenting Program to Improve Problem Behaviors in Preschool-Age Children (PriCARE) [Online]. Available at: http://www.policylab.chop.edu [Accessed: plug in date accessed here].