Understanding Juvenile Justice through a Health System Lens
Think back to your teenage years. If you're like most people, it was probably a period of rapid change—not only physically, but also cognitively and emotionally. From a developmental perspective, teens and young adults are more likely to be impulsive and susceptible to negative peer influences, and they're less apt to weigh the long-term consequences of their actions.
Because youth are developmentally different from adults, the juvenile justice system was historically designed to be rehabilitative and restorative, rather than retributive. Despite this stated goal, over the last several decades, children have been subjected to many of the same harsh, punitive policies imposed in the adult criminal justice system.
Last month, at PolicyLab's "Charting New Frontiers in Children's Health Policy and Practice" forum, the Stoneleigh Foundation hosted a panel session on "Transforming Juvenile Justice to Improve Youth Outcomes in Philadelphia." With so many children's health researchers, practitioners and policymakers in attendance, we thought it important to call attention to the parallels between the juvenile justice and health services systems.
In juvenile justice, "arrest, charging and adjudication" serve as analogues to the health system's "intake, assessment and diagnosis." The justice system has various mechanisms for "treatment and intervention," which range from minimally invasive to aggressive, depending on the nature of the charge. Following formal "discharge" from the system, a young person can either remain rehabilitated or—as we see all too often—reenter, initiating the cycle once again (Figure 1).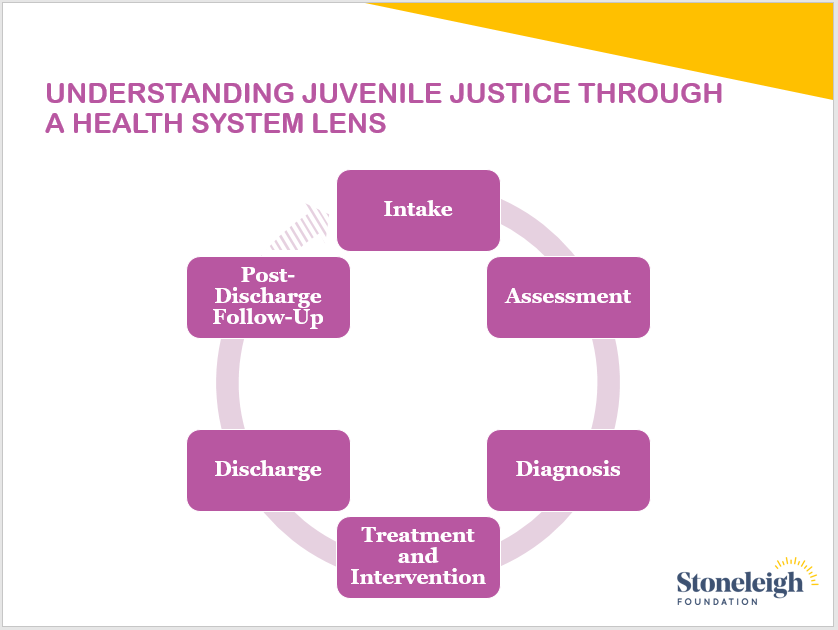 Stoneleigh's panel discussion featured four individuals working at the leading edge of juvenile justice innovation in Philadelphia. In their remarks, Kevin Bethel, Bob Listenbee, Dr. Naomi Goldstein and Timene Farlow each highlighted how interventions at key stages of system-involvement can significantly affect outcomes for our young people.
Here are a few key takeaways:
The good news is that, despite the many challenges we face, leaders in Philadelphia are finding new, effective and developmentally sound ways to meet the needs of young people before and during their involvement with the juvenile justice system.
So what role can the children's health community play?
Connect youth with positive activities, influencers and experiences
Equip youth with tools to cope with the challenges they face in their families, schools and communities
Identify local programming and refer youth and their families to wraparound prevention and supportive services
Develop evidence-based programs and models that meet the specific needs of youth
Understanding the parallels between our juvenile justice and health systems—and the ways these systems impact and influence each other—is critical to strengthening outcomes for some of our most vulnerable young people. We hope this discussion is just the start of a fruitful and transformative collaboration between our fields.
---

Marie N. Williams, Esq., is a senior program officer at the Stoneleigh Foundation and moderated the "Transforming Juvenile Justice to Improve Youth Outcomes in Philadelphia" panel during PolicyLab's 10th anniversary forum.