Medicaid and Children's Access to Mental Health Care
Image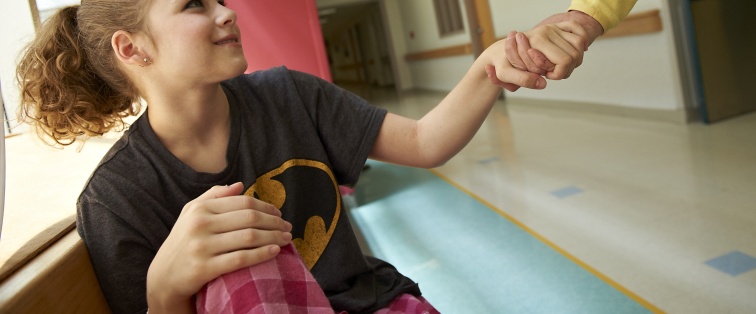 Elected officials across the political spectrum have stated that mental health is a priority for them. Rising suicide rates and a growing opioid use epidemic are consuming our news and concerning communities across the country. These events are strong reminders that preventive mental health services are important for everyone, and timely mental health treatments are critical for those who need them. To help avoid these tragedies, attention to mental health must begin in childhood.
Yet, many U.S. children do not receive mental health services that could improve their mental health, physical health and overall well-being. Health care system reforms that increase access to mental health services could not only help more children have happy, healthy childhoods, but could also provide a strong foundation to help children grow into healthy, productive adults. Political leaders see this potential, giving rise to strong bipartisan interest in improving access to mental health services.
For instance, mental health initiatives included in the 21st Century Cures Act were among the most widely supported provisions in this major piece of health care legislation that passed last year. The need to start mental health promotion and prevention early in childhood is also resonating, leading to efforts such as the federal-level partnership Project LAUNCH, which provides grant funding to support incorporation of mental health‒informed practices into local primary care, early care and education, home visiting and family settings.
Even still, many barriers to mental health care remain. In this blog post, we review these barriers to children's mental health care and opportunities for lawmakers to maximize the potential impact of this uniquely unifying goal of alleviating the consequences of poor mental health.
Mental Health and Medicaid
Medicaid is the largest payer of mental health services for both adults and children. Nearly half of U.S. children receive their health insurance through Medicaid, which covers children living in low-income families, in foster care or with disabilities. Children insured by Medicaid are more likely to have a mental health condition than their peers. Unfortunately, guaranteed coverage of mental health services under Medicaid does not translate to guaranteed access.
Barriers to Mental and Behavioral Health Care
Overall, access to mental health care for children remains insufficient, despite recent parity laws requiring similar coverage for mental and physical health and Medicaid's mandate to cover any mental health service deemed medically necessary. Indeed, other barriers to care remain and more than half of all children, including those covered by Medicaid or private insurance, do not receive recommended mental health services.
There are three major barriers to children's access to mental health care:
The long-standing shortage of pediatric mental health clinicians limits access to services and also results in limited opportunities for general clinicians to learn mental health treatment skills. Nearly all U.S. counties report at least some unmet need for mental health providers, and the Substance Abuse and Mental Health Services Administration (SAMHSA) has designated 4,000 regions containing almost 91 million people as mental health professional shortage areas where mental health clinicians are simply not available. To illustrate the depth of the shortage: 55 percent of all U.S. counties have no practicing psychiatrists, psychologists or social workers.
Much of the effort required to treat mental health conditions involves non-reimbursable activities, such as communicating with schools and community agencies or answering parent questions. As a result, clinicians who can offer mental health treatments within their broader scope of practice, like primary care clinicians and social workers, often shift toward other clinical work in order to ensure that their practices are financially sustainable.
Mental health services are not well integrated into primary care in many communities. Families prefer to receive mental health treatments in primary care, and when mental health treatments are offered on a referral basis outside of primary care, patients and their families are less likely to follow up to receive services.
Economic Burden of Inadequate Mental Health Care
Over the past decade, hospitalization rates for children with mental health conditions have risen at five times the rate of those for children without a mental health diagnosis. Children with mental health conditions are hospitalized more frequently than their peers for both mental and physical health problems. Further, when hospitalized for physical health reasons, children with mental health conditions have significantly longer, more costly hospital stays. These costs are directly apparent in higher hospital bills. Additionally, families of children with mental health conditions must spend significant time coordinating care, sometimes forcing them to reduce their work hours or even leave the workforce altogether to care for their children, exacerbating existing financial strain.
Strategic Investments in Mental Health Services
While training additional mental health specialists will take time, we can build a system that more efficiently ensures that patients access available mental health services now. Adjusting Medicaid payments that incentivize care coordination, increasing reimbursement for generalists who provide mental health treatments, and supporting integration of mental health care into primary care can maximize capacity of the existing workforce to provide mental health care.
Strategic investments that increase children's access to mental health care could yield cost savings by avoiding high-cost medical services like hospitalizations and empowering parents to participate in the workforce. The wrong reforms could threaten children's already-limited access to mental health treatments and, in effect, increase the overall cost to society of children's untreated mental health conditions. Ultimately, it's up to all of us to ensure that every child has a strong and healthy start in life, and the opportunity to become healthy, productive adults.
---

Jennifer Clendening, MPA, MBE, is a former health policy manager at PolicyLab.
Andrea Knight, MD, MSCE, is a former faculty member at PolicyLab.