Stakeholder Perspectives: Supporting Pennsylvania's Immigrant Communities During the Pandemic
Image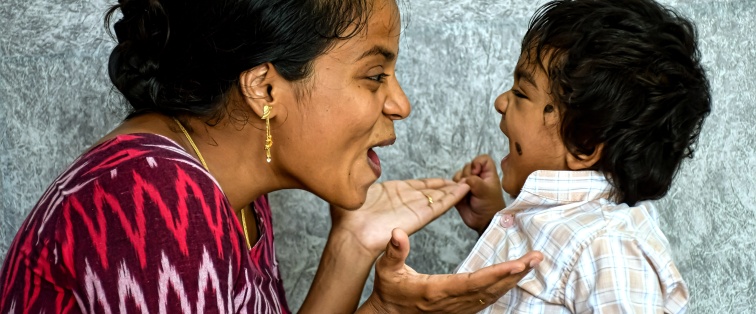 Editor's note: The survey discussed here was distributed in English, French and Spanish. Therefore, we've authored blog posts in each of these languages to share our findings and recommendations with the communities who speak them. Detailed findings in English are available in this PolicyLab white paper.
---

Haga clic aquí para ver la versión en español.
Cliquez ici pour voir la version française.
The United States has been battling COVID-19 for almost a year. While we lack data on the precise impact of the pandemic on immigrant communities and those with limited English proficiency, we do know that they face many barriers that could increase their risks from the pandemic, like working in essential fields and having poorer health outcomes even before the pandemic.
As part of a collaborative organized by Pennsylvania's Department of Health, we distributed an online survey in June 2020 to Pennsylvania stakeholders working with immigrant communities and those with limited English proficiency (hereafter "immigrant/LEP communities"). The survey was intended to help strengthen the state's response to the pandemic and better serve these unique communities.
From the results of the survey, and information provided by stakeholders and immigrant community leaders, we are offering the following recommendations for localities and public health agencies that would help to protect the health and well-being of these communities and develop a foundation to address future public health crises in an equitable manner.
Ensure language access and maintain resource hubs
As one respondent wrote, "Language access is everything." Survey respondents reported serving 56 different language communities, which is why it's important to ensure language access in every aspect of the pandemic response. This includes public health information related to testing, quarantining, self-isolation, case investigation, and contact tracing, as well as strategies inclusive of the many smaller immigrant/LEP communities who collectively comprise a large portion of the Commonwealth's LEP residents. Respondents also agreed that preferred language information should be collected during SARS-CoV-2 testing to strengthen case investigation and contact tracing.
It's also important to ensure that these resources are up to date and can be found in a centralized, maintained, accessible hub. Such a repository of credible information in preferred languages would decrease duplicative translation efforts and allow for better information sharing beyond each state's main language groups. National repositories exist, including Switchboardta.org and the Centers for Disease Control and Prevention (CDC) Communication Toolkit for Migrants, Refugees, and Other Limited-English-Proficient Populations, but we still need hubs for state-specific guidance.
Support trusted community leaders
Many members of immigrant/LEP communities rely on leaders within their circles for timely information. Bolstering the role of trusted immigrant community stakeholders—including formal organizations, community leaders and community navigators—could help effectively disseminate information. But our respondents made clear that partnership with immigrant/LEP community-based organizations should go beyond information sharing.  
"Contact tracing should be done in close collaboration with community-based organizations (CBOs) embedded in communities where trust has been developed making contact more accurate and effective," one community leader reported. "There is already significant fear and hesitation in our target community around disclosing COVID-19 status and attempting to do contact tracing outside of partnerships with CBOs who know and are able to reach and communicate with contact tracing targets will not lead to the right results.
We recommend that public health agencies view immigrant community-based organizations as partners in this COVID-19 work and not only sources of information."
Provide livelihood support
In the words of one community leader, "many in our community are considered front-line workers in nursing homes, as janitorial staff in hospitals, airport employees, delivery drivers, grocery store employees etc., but many were not provided with safety/protective equipment and as a result, there were a number of COVID-19 infections and fatalities…."
Immigrant/LEP workers ineligible for state and federal paid leave and unemployment benefits are of particular concern, and it's critical that these communities can access existing supports. Another community leader shared that they have "fielded multiple calls from immigrants who are scared to apply for SNAP benefits and have no food to feed their families because of the Public Charge rule."
This lack of livelihood support also increases the risk of infection. Members of multigenerational households without access to temporary housing for isolation/quarantine are at greater risk, and immigrant workers without income support have little option but to continue in-person work even when employers are not prioritizing safe conditions. That's why it's essential that public health agencies investigate workplace safety surrounding job security, protective equipment and distancing measures. As one community leader stated, "We need the powers that be to hold employers accountable to COVID safety practices."
Ensure the safety of immigration status information
In the words of one survey respondent, "communities already being targeted by ICE and other law enforcement would benefit from assurances that their information will be protected."
In order for members of immigrant/LEP communities to seek care and report cases of COVID-19, they need to "feel safe and secure allowing a contact tracer to identify anyone else in their lives who could be affected by the virus," according to a community leader. By ensuring the security of immigration status information during case investigation, contact tracing, and other public health efforts, we can assure these communities there is only benefit to seeking care.
We hope that the results of this survey can help clarify the barriers faced by immigrant/LEP populations, their strengths and resilience, and solutions that public health agencies could use in fighting the pandemic. Above all, we emphasize the depth of knowledge and experience of community leaders who work with these populations, and the importance of seeking them out as partners in combatting the pandemic.
Ultimately, initiatives that strengthen and sustain relationships between communities, service organizations, and public health authorities—while also building capacity within immigrant/LEP communities—are critical. These efforts will ensure communities successfully weather the pandemic, and they will allow both our state and others who choose to invest in this type of work to build a stronger framework of preparedness for the future.
---
La pandemia del coronavirus-2019 (COVID-19) ha trastornado el mundo, con la mayoría de los casos y las muertes todavía en los Estados Unidos. No tenemos datos sobre el impacto preciso en inmigrantes y hablantes del inglés como segundo idioma en Pennsylvania. Sin embargo, sabemos que la mayoría de estas poblaciones son personas de color, quienes han sufrido de una manera desproporcionada del virus y de las consecuencias económicas. Las comunidades hispanas son seriamente impactadas. También sabemos que hablantes del inglés como segundo idioma siempre han recibido peor cuidado medico, incluso antes de la pandemia.
En junio del 2020, 108 actores interesados que trabajan con comunidades de inmigrantes y hablantes del inglés como segundo idioma en Pennsylvania completaron una encuesta electrónica que tenía el objetivo de fortalecer la respuesta del departamento de salud a la pandemia. La encuesta fue creada en inglés, español y francés. Cinco de los 108 partidos completaron la encuesta en español y el resto en inglés. Los encuestados hablaron de varios temas importantes a las comunidades con que trabajan y especialmente consideraciones de cómo mejorar la equidad de salud en estas comunidades durante la pandemia.
Las siguientes recomendaciones surgieron de la información compartida por los partidos interesados, incluyendo 32 líderes en las varias comunidades de inmigrantes.
Reconocer las barreras particulares que existen para las comunidades de inmigrantes y las comunidades con dominio limitado de inglés
Los encuestados describieron muchos obstáculos enfrentados por sus comunidades, y a menudo, la gente experimentó muchas dificultades al mismo tiempo. Por ejemplo, una persona explicó que "la población hispana indocumentada tiene un gran número de barreras que aumenta el riesgo de exposición a COVID y aumentan su vulnerabilidad y al mismo tiempo el más limitado acceso a redes de seguridad, atención médica". Otro encuestado describió que "existen barreras que hacen el acceso [a pruebas y cuidado médico] complicado (idioma, miedo de inmigración, seguro de salud, distancia a los centros de pruebas, transporte, cuidado de niños, y otros)".
Asegurar acceso lingüístico a todo aspecto de la respuesta a la pandemia
Los encuestados indicaron que sirven comunidades que hablan más de 55 idiomas. Sus respuestas indicaron cuán importante es documentar el idioma preferido de cada paciente durante el proceso de prueba de COVID-19 para conducir las investigaciones de casos del virus y seguimiento de contactos en forma eficiente y correcta. Como respondió una persona en español: "Proporcionar servicios en el idioma español es muy importante para asegurar que el contacto sea adecuado."
También es importante traducir la información de salud pública relacionada a las pruebas, cuarentena y aislamiento, investigaciones de casos del virus, y seguimiento de contactos en más idiomas. Esto incluye desarrollar estrategias inclusivas para las comunidades más pequeñas de inmigrantes que no hablan español o francés, que en total componen una proporción grande de residentes de Pennsylvania que no hablan inglés como su primer idioma.
Los encuestados también recalcaron que recursos relacionados con COVID-19, incluyendo las páginas web de información, sean actualizados frecuentemente. Como explica una persona en su respuesta en español, la información en otros idiomas es "limitada y ha ido cambiando a lo largo del tiempo." Para asegurar que la información sea actualizada y acertada, disminuir los esfuerzos repetitivos de traducir, y garantizar la disponibilidad de información en idiomas menos comunes, es importante unificar la información de salud pública y los recursos con respeto a la pandemia en un lugar central, que se mantiene continuamente, y que se accede fácilmente. Hay algunos repositorios o bases de datos importantes que ya existen, como en las páginas web del CDC. Pero se necesitan repositorios centrales de información confiable específica a cada estado.
Aumentar el rol de miembros de la comunidad inmigrante y organizaciones que les sirven
Ya existen organizaciones formales, líderes de la comunidad, navegantes de salud, y otros que tienen la confianza de la comunidad. Como escribió una persona: "La información existe, pero falta que venga de fuentes que inspiran confianza en la población". Colaboración entre organizaciones que sirven poblaciones de inmigrantes puede ayudar estos esfuerzos. Por ejemplo, el seguimiento de contactos de alguien con COVID-19 debe utilizar organizaciones que ya sirven a las comunidades.
Considerar estrategias para apoyar el ingreso y la capacidad de ganarse la vida, y de priorizar la seguridad de los lugares de empleo
Durante la pandemia, muchos miembros de las comunidades inmigrantes y las comunidades que hablan inglés como segundo idioma han perdido su trabajo u otras formas de ingreso. Hay preocupaciones especialmente por inmigrantes que son inelegibles para beneficios que existen al nivel federal o estatal (por ejemplo, beneficios del desempleo o licencia por enfermedad pagada). Los encuestados escribieron que asegurar que las comunidades reciban apoyo financiero es crítico. Por ejemplo, un encuestado escribió que "ayuda monetaria a personas que no califican para la ayuda federal es la más importante".
Tambien es esencial investigar la seguridad de los lugares de empleo. Muchos trabajadores no tienen alternativas a trabajar, y junto con la falta de apoyo del ingreso económico, los trabajadores podrían ser obligados a trabajar en lugares de empleo sin protecciones suficientes en contra COVID. Un encuestado comentó que "la mayoría de las personas deben trabajar en condiciones inseguras ya que son trabajadores esenciales". Esta situación aumenta el riesgo de infección. Así es que, para los trabajadores inmigrantes de bajos recursos, se hace muy difícil seguir las recomendaciones de cuarentena, y esto representa un riesgo doble dado que muchas familias comparten sus viviendas con familiares de varias generaciones. Alguien escribió: "Las condiciones de vivienda (hacinamiento), trabajo (en profesiones esenciales en las que no se pueden proteger, sin 'sick leave,' y en condiciones inestables en la que pueden ser despedidos si se quejan o exigen protección), falta de seguro de salud y pérdida económica debido al confinamiento han afectado mucho a la población migrante".
Asegurar la seguridad del estatus migratorio
Para sentirse cómodos compartiendo información con los trabajadores de salud pública, la gente necesita confianza que su información, especialmente si está relacionada con el estatus migratorio, va a ser protegida. Toda información recogida durante el proceso de investigación de casos del virus, seguimiento de contactos y otros esfuerzos de salud pública debe ser confidencial.
En conclusión, iniciativas que fortalecen y sostienen los enlaces entre las comunidades, las organizaciones de servicio, y las autoridades de la salud pública y las que aumentan la capacidad dentro de las comunidades de inmigrantes/hablantes del inglés como segundo idioma son las iniciativas más críticas. A un nivel fundamental, nuestros encuestados indican que estos esfuerzos serán indispensables para que las comunidades inmigrantes sobrevivan la pandemia. Además, las iniciativas y los esfuerzos sugeridos por los encuestados permitirán que Pennsylvania desarrolle una fundación para enfrentar las crisis de salud pública en el futuro de una manera equitativa.
---
La pandémie du coronavirus a bouleversé des pays du monde entier, les États-Unis étant toujours le pays le plus touché. Les conséquences ne sont pas équitablement subies par tous les habitants. Aux États-Unis, il nous manque les données sur l'impact précis de la pandémie sur les immigrants et sur les personnes dont la maîtrise de l'anglais est limitée. Cependant, nous savons que ces populations font face souvent à des barrières qui pourraient aggraver leurs expériences de la pandémie. Par exemple, même avant la pandémie, ces personnes-là recevaient plus souvent des services de santé de pauvre qualité.
En juin 2020, en collaboration avec le Département de Santé de Pennsylvanie (Pennsylvania Department of Health), nous avons créé et distribué un sondage pour les dirigeants et les organisations qui aident les immigrants et les personnes dont la maîtrise de l'anglais est limitée. 108 des personnes interrogées ont rempli le sondage, racontant les difficultés rencontrées par leurs populations, leur dynamique, et proposant des solutions possibles. Parmi eux, les personnes interrogées s'occupaient de populations qui parlaient plus de 55 langues, et un tiers parmi elles étaient des francophones. Voici les recommandations clés qui sont sorties du sondage.
S'assurer que les informations et services associés à la pandémie soient disponibles dans la langue préférée de ceux qui les utilisent
Plus de 45% des personnes interrogées ont indiqué qu'elles ont besoin de sources sur les tests, la quarantaine, l'isolation, l'investigation de cas, et le traçage des contacts en plus de langues différentes. Plus précisément, plusieurs personnes interrogées ont expliqué qu'elles ont besoin d'informations dans les langues moins communes, parce que ces sous-populations comprennent néanmoins beaucoup de gens. Par exemple, quelqu'un a écrit, « Beaucoup de sources ne sont pas disponibles dans les langues en dehors de l'espagnol. » En plus d'information sanitaire, les personnes interrogées ont indiqué qu'elles ont besoin d'informations traduites à propos des services sociaux disponibles. Par exemple, une personne a écrit que les familles chinoises ont souvent accès à l'information au sujet du coronavirus, mais qu'elles « éprouvent des difficultés pour accéder aux sources de l'état et de la ville à cause des barrières de la langue. »
Pour aider ceux ayant besoin de sources traduites, et pour minimiser la duplication du travail, il serait utile d'organiser et d'offrir ces sources sur un site centralisé. C'est important en particulier parce que les conseils changent rapidement. Comme l'explique une personne interrogée, « La période COVID-19 a été remplie de surcharge d'informations qui changent tout le temps. Tellement que même les anglophones ont des difficultés à rester au courant. Avec le manque de traduction et le long délai pour traduire l'information, les documents, et les sources, beaucoup des « nouvelles » ne seraient plus nouvelles parce que des jours passeraient avant que l'accès aux documents traduits ne soit disponible. » Il existe déjà des sources au niveau national (comme Switchboardta.org et des sources des Centres pour le Contrôle et la Prévention des Maladies, ou « CDC »), mais il nous manque des sources sur les règles et les conseils au niveau local. 
En plus de l'information traduite, il est essentiel que les services soient disponibles dans la langue préférée de ceux qui les utilisent. Par exemple, une personne a indiqué que les tests pour le coronavirus sont disponibles « mais avec des difficultés concernant l'aide en d'autres langues. » Une autre a écrit, « Beaucoup de sites de soins médicaux manquent de personnel et n'utilisent pas les lignes téléphoniques de traduction pour aider les familles. »
Renforcer le rôle des leaders et des organisations ayant obtenu la confiance de populations d'immigrants
Plusieurs des personnes interrogées ont décrit comment leurs populations ont souvent peur du gouvernement, parfois à cause de leurs expériences dans leur anciens pays (comme pour beaucoup de réfugiés), et parfois à cause des agences d'immigration aux États-Unis. En revanche, les organisations qui aident les immigrants directement ont déjà gagné la confiance de leurs populations. Une personne commente : « Les CBOs [organisations basées dans la communauté] doivent être considérées comme des partenaires dans ce travail contre le COVID-19 et pas seulement comme des sources d'information. »  Beaucoup de personnes interrogées ont aussi décrit la force des liens sociaux parmi les communautés. Par exemple, leurs populations utilisent souvent des sources officieuses pour recevoir leur information, comme les membres de leur famille, les voisins, et les dirigeants de leur communauté.
Explorer des stratégies pour aider avec les moyens de subsistance
Plus de 65% des personnes interrogées ont indiqué la perte d'un emploi (ou d'une autre source de revenu) comme une des difficultés les plus communes pour leurs populations. Une personne a écrit, « Comment payer le loyer et les charges est la principale source de stress et d'anxiété. » Le Congrès des États-Unis a passé des lois pour aider les personnes souffrant de difficultés économiques à cause de la pandémie, mais les immigrants sans papiers n'ont pas droit à ces services. » La règle de « Charge Publique » pose aussi des barrières, où l'utilisation des services publics pourrait affecter la probabilité qu'un postulant soit à terme naturalisé. Une personne interrogée a écrit, « Pour ceux qui sont dans les différentes étapes de papiers et d'éligibilité [à la citoyenneté], la peur de charge publique les empêche de solliciter accès à ces programmes. »
Enquêter et assurer les mesures de sécurité sur les lieux de travail
Beaucoup d'immigrants travaillent dans des emplois avec plus de risque d'être exposé au COVID et moins de droits. Par exemple, une personne interrogée a écrit, « Les expositions du métier- surtout pour les travailleurs essentiels en dehors des services de santé- sont le plus grand risque d'infection que nous connaissions... protéger ces travailleurs serait très, très important pour à la fois ces individus et pour le déconfinement. » Il est important d'assurer les mesures de sécurité comme l'équipement de protection individuel, la distanciation sociale, et la sécurité de l'emploi. De plus, une personne a expliqué : « Notre organisation a essayé d'assurer que les travailleurs connaissent leurs droits dans les lieux de travail… parce que beaucoup continuent de travailler sur des sites dangereux parce qu'ils ont peur de s'exprimer ou de perdre leur emploi. »
Assurer la confidentialité de l'information sur le statut d'immigration
Les immigrants sans papiers et les demandeurs d'asile ont souvent peur de l'agence d'immigration aux États-Unis (« Immigration and Customs Enforcement », où « ICE »). Il est essentiel que les immigrants puissent se coordonner avec les services de santé publique sans danger d'interaction avec les agences d'immigration. L'information recueillie pendant l'investigation de cas, le traçage des contacts, et d'autres mesures de santé publique doit être gardée secrète. Une personne commentait : « Le besoin le plus important est l'éducation et l'accès aux tests d'une manière qui protège mes membres de ICE. » Une autre a écrit, « Il est de la plus haute importance que notre population sans papiers sache qu'elle est protégée de ICE quand elle reçoit l'aide et l'assistance nécessaires pendant la pandémie. »
Nous espérons que les conclusions de ce sondage pourront clarifier les barrières affrontées par les immigrants et les personnes dont la maîtrise de l'anglais est limitée, leur dynamique et leur résistance, et les solutions qui pourraient aider les agences de santé publique et d'autres qui luttent contre la pandémie. Par-dessus tout, nous soulignons la profondeur de la connaissance et de l'expérience des leaders et des organisations qui travaillent avec ces populations, et l'importance de susciter leur participation comme partenaires pour combattre la pandémie.
---

Acknowledgements: The authors would like to thank Nadine Rollin, Anne La Rochelle and Cristina Herndon for their review of this content.
Caroline La Rochelle, MPH, is a former policy and strategy senior associate at PolicyLab.