SHINE: Supporting Healthy IdeNtitiEs for Gender Non-Conforming Youth
Statement of Problem
For most children, biological sex, gender identity, and gender expression are aligned in the way that our society expects, a type of gender expression known as "cis-gender." However, for some children, their gender identity and/or expression may be different from the sex on their birth certificate. These children are called "gender non-conforming," or GNC. We do not know exactly how many people in the world are GNC, but data from the National Center for Gender Equality suggest that the prevalence may be as high as one percent of the general population.
Challenges for GNC youth exist at every turn in our society. They experience a range of reactions from family members, school officials and classmates, and others in their communities, ranging from a lack of understanding to outright rejection, isolation, discrimination, and victimization. In addition to these societal challenges, GNC youth face many barriers in our health care system. For example, many GNC youth experience significant obstacles to accessing appropriately trained health care providers and needed health and psychosocial services. Additionally, many GNC youth are denied insurance coverage for certain health services such as puberty-blocking medications, cross-gender hormones, and, in some cases, gender-reassignment surgery. With our research, we seek to improve policies and programs to ensure GNC youth have access to high-quality care, aren't unjustly impacted by social determinants of health, and have successful interactions with the health care system.
Description
Comprehensive Care and Support for Gender Non-Conforming Youth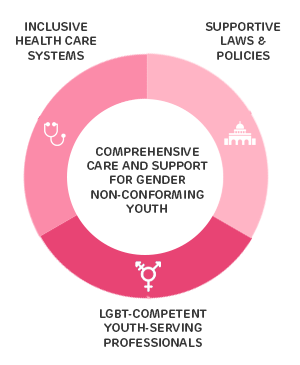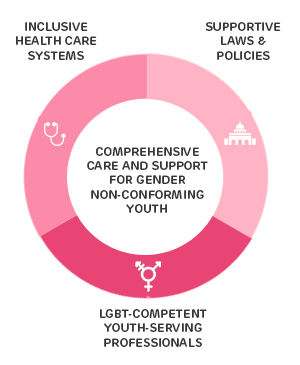 Inclusive health care systems, supportive laws and policies, and LGBT-competent youth-serving professionals can intersect to ensure comprehensive care and support for gender non-conforming youth.
Through our solutions-oriented research, we hope to inform training and consultation with community pediatric providers in an effort to establish culturally competent medical homes for GNC youth. We work to ensure that GNC youth have access to health insurance that meets their unique needs. Additionally, by partnering with local organizations, policymakers, schools and religious institutions, we will create supportive community environments for GNC children and adolescents and their families. We hope our community partnership in Philadelphia will serve as a model for other communities. Finally, we hope to conduct groundbreaking research and complete quality improvement projects so this underserved population can grow into healthy, productive adults.
Specifically Project SHINE includes the following activities:
Identify key, local provider and patient/family stakeholders for individual in-depth qualitative interviews and development of an advisory board in order to better define the needs, strengths, and challenges for improving the health of GNC youth in the Philadelphia.
Survey local pediatric health providers about knowledge, attitudes, and skills in identifying and providing care for GNC children and adolescents.  We will then develop and test an educational intervention for local pediatricians based on these findings.
Develop documents that help to address the specific policy and health care systems challenges and successes that affect health outcomes for GNC youth.
Next Steps
These efforts will hopefully yield important information about the best ways to promote the health and well-being of vulnerable youth which can be used to develop policy and program changes that further meet that goal.
This project page was last updated in September 2019.
Suggested Citation
Children's Hospital of Philadelphia, PolicyLab. SHINE: Supporting Healthy IdeNtitiEs for Gender Non-Conforming Youth [Online]. Available at: http://www.policylab.chop.edu [Accessed: plug in date accessed here].