Patient Portals, Asthma, and Quality of Care: Improving Patient Engagement with Electronic Health Records
Statement of Problem
Asthma is the most common chronic pediatric illness, affecting more than 7 million children in the United States. Its effects are far-reaching, resulting in loss of work for parents and school for children, lower quality of life, and increased hospitalizations. One potential solution for improving care for children with asthma is to increase shared decision making (SDM) among parents and clinicians, an approach supported by the Institute of Medicine, as well as the 2010 Patient Protection and Affordable Care Act. However, the implementation of SDM in a real-world practice setting has proven difficult, calling for the development of innovative new systems to help facilitate this process. One of the most promising options is to develop systems for patients and providers to interact through electronic health records (EHRs).
Concurrently, one of the major goals of recent federal legislation (HITECH and the ACA) is to increase patient engagement through EHRs. The federal standards developed to improve the use of EHRs, collectively referred to as Meaningful Use (MU), set standards for provider use of EHRs. Often, patients interact with their EHRs through a portal- an electronic interface that allows a patient to share health information and preferences with their provider.
Description
How can patient portals improve asthma care?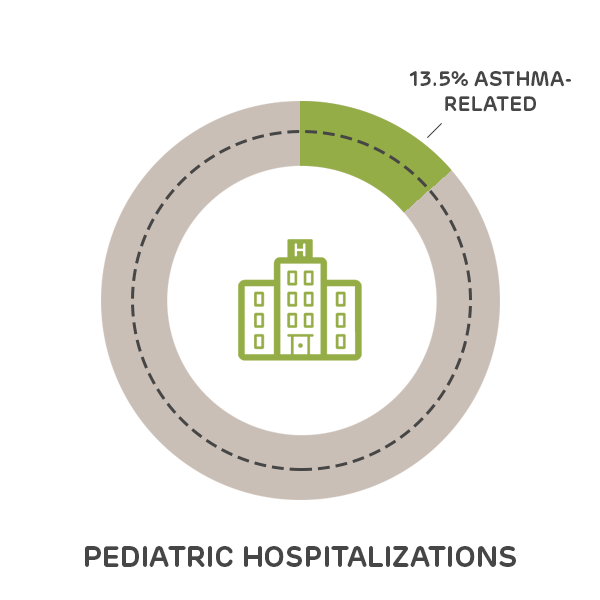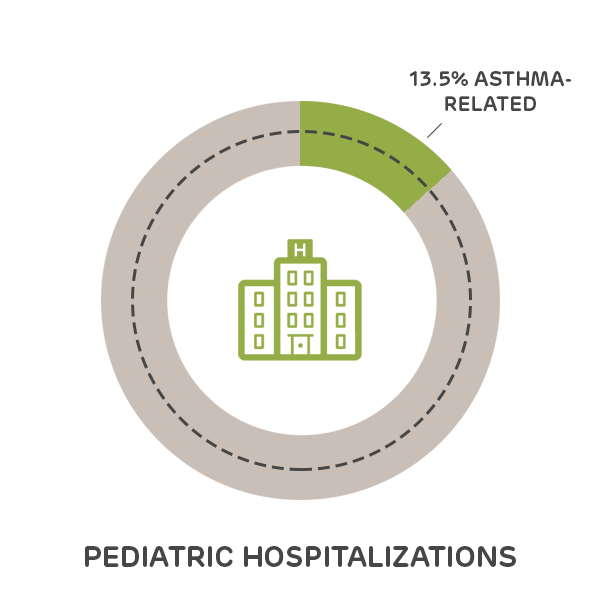 7.1 million children in the U.S. have asthma. Asthma-related pediatric hospitalizations account for 13.5 percent of all pediatric hospitalizations.
The study team has developed and piloted an electronic medical record-based patient portal, "MyAsthma," designed to facilitate SDM in pediatric asthma. Typical portals include features such as messaging, appointment scheduling, and the delivery of lab results. MyAsthma extended these features with a design that closely follows the elements of SDM by linking to the child's electronic medical record and providing parents with a platform from which to access educational content, track asthma symptoms over time, identify concerns and goals, and share this information with the child's doctor or asthma care team.
The team is now expanding this study to work with two types of portals at primary care offices that have high percentages of Medicaid enrollment (>20%) across the country. Using these two different portals, they'll work with primary care offices to engage patients who have asthma and their families. The team will try different approaches to engaging patients and track their subsequent use, looking to identify and compare the best ways of reaching out and engaging people in using EHRs, including understanding the role of patient, clinical team, and health system characteristics in influencing adoption of these systems.
To inform the implementation work, our legal and policy team helped position this project in the context of current norms of health care policy with respect to growing meaningful use expectations for health systems that use EHRs. This appraisal of federal and state policy helped shape the study questions and continues to inform the implementation of the portal.
Next Steps
This project will help us:
Understand under what circumstances and to what extent patient portals are likely to be successfully adopted by patients and their families in pediatric primary care.

Learn how patient portals may influence the effectiveness of pediatric health care delivery, including the affect of portals on workforce issues.

Develop policy recommendations for MU incentives that promote sustained use and overcome barriers to adoption of patient portals.
Disseminating our approach and findings from the evaluation of the portal will help strengthen efforts to replicate shared decision making tools across pediatric health systems. To the degree that shared decision making improves quality and value of services delivered, it may open the door to more creative contracting with payers that rewards health systems that effectively replicate these practices.
Suggested Citation
The Children's Hospital of Philadelphia, PolicyLab. Patient Portals, Asthma, and Quality of Care: Improving Patient Engagement with Electronic Health Records [Online]. Available at: http://www.policylab.chop.edu [Accessed: plug in date accessed here].