The Children's Stability and Well-Being Study (CSAW): Evaluating an Evidence-Based Intervention Project
Statement of Problem
Many children in foster care have significant mental health issues. However, they often do not receive adequate behavioral health services. Moreover, the training foster parents receive often does not do enough to help caregivers feel prepared for managing children with significantly challenging behaviors or complex trauma histories. As a result, children in foster care may frequently change placement due to caregiver stress and behavior problems. The child welfare system needs to provide more promising evidence-based therapeutic interventions and training programs that can address the behavioral health needs of children in foster care and support foster parents, agency caseworkers, and children's families of origin.
Description
Evaluating an evidence-based intervention project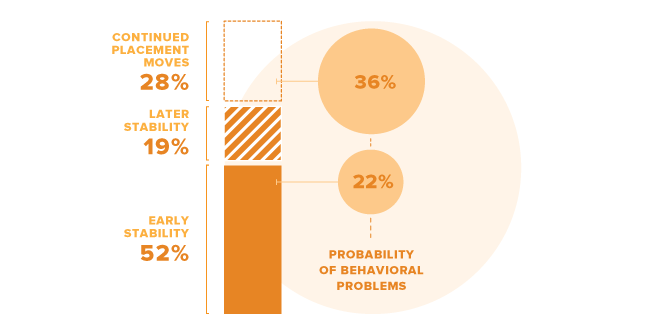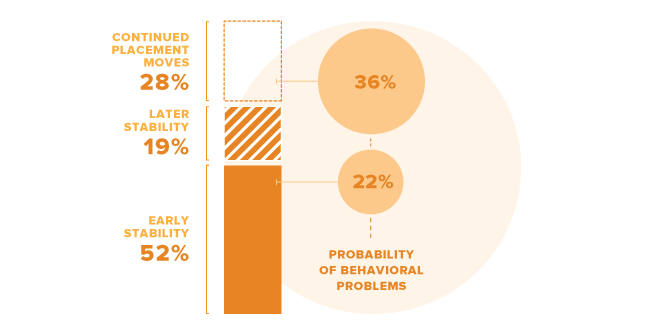 In a study examining placement stability, children in foster care who achieved early stability​ were less likely to have behavioral problems than children who had continued placement changes (22% vs 36%).
The primary goal of this project was to pilot test the implementation of a multi-level behavioral health intervention co-located in two selected foster care agencies in Philadelphia. The model was based on the evidence-based therapeutic intervention Parent Child Interaction Therapy (PCIT). PCIT a 12-20 session intensive mental health intervention demonstrated to reduce behavioral concerns and improve parent-child attachment, was provided to caregiver-child dyads at risk for placement disruption related to reported child behavior problems and/or associated caregiver stress. An enhanced parent training model, Child Adult Relationship Enhancement (CARE) was also developed and provided through this project. All foster and kinship caregivers, as well as foster care agency staff were provided this 6-hour training based on the principles of PCIT but adapted to be easily disseminated to larger populations at a training and prevention level of service. This project evaluated the interventions ability to: 1) reduce behavior problems in children in foster care, 2) mitigate foster parent stress, 3) decrease placement moves due to behavioral problems, and 4) use the train-the-trainer model and develop a sustainable intervention.
The legal and policy team worked at the outset of this project to understand financing rules and how the evidence-based interventions could be paid for through a blended funding stream of Medicaid and child welfare dollars. They also worked with the City to create a request for proposal (RFP) with the child welfare and behavioral health departments to identify both host agencies for the program and a community behavioral health agency to provide the evidence-based services.
Next Steps
Now that this program has been developed, pilot tested, and proven effective, it is being implemented city-wide in Philadelphia. We continue to focus on integrating behavioral health and child welfare services by improving training for caseworkers and embedding behavioral health staff in child welfare agencies, and expanding the program to families receiving in-home services.
This project page was last updated in May 2018.
Suggested Citation
The Children's Hospital of Philadelphia, PolicyLab. The Children's Stability and Well-Being Study (CSAW): Evaluating an Evidence-Based Intervention Project [Online]. Available at: http://www.policylab.chop.edu [Accessed: plug in date accessed here].