Ensuring the Future of Health Care Coverage and Access for Children and Families
Statement of Problem
Health insurance coverage, particularly for children, is facing a time of significant transition. Numerous moving parts are working in tandem to steer public and private coverage in new directions. In the decade prior to the passage of the Affordable Care Act (ACA), working families started to see significant changes to the affordability of health insurance coverage for their children. While many of these families have comfortably enjoyed employer-sponsored insurance (ESI) for some time, others have begun to feel the effects of increasing coverage costs – family premiums have nearly doubled, far outpacing the growth in median household income.
Families seeking affordable coverage options for their children have turned to public insurance programs like Medicaid and the Children's Health Insurance Program (CHIP), which offer low- or no-cost, comprehensive and child-specific plans. Thanks to these programs, the U.S. has achieved nearly universal rates of children's health insurance coverage - more than 95 percent in 2015. Unfortunately, this accomplishment is already in danger of being undermined. Financing for CHIP is scheduled to end in 2017 unless Congress renews its funding. Given the uncertain future of the ACA and potential rollbacks to Medicaid, the importance of preserving CHIP has only become more apparent.
Description
Health Insurance Coverage of Children In Working Families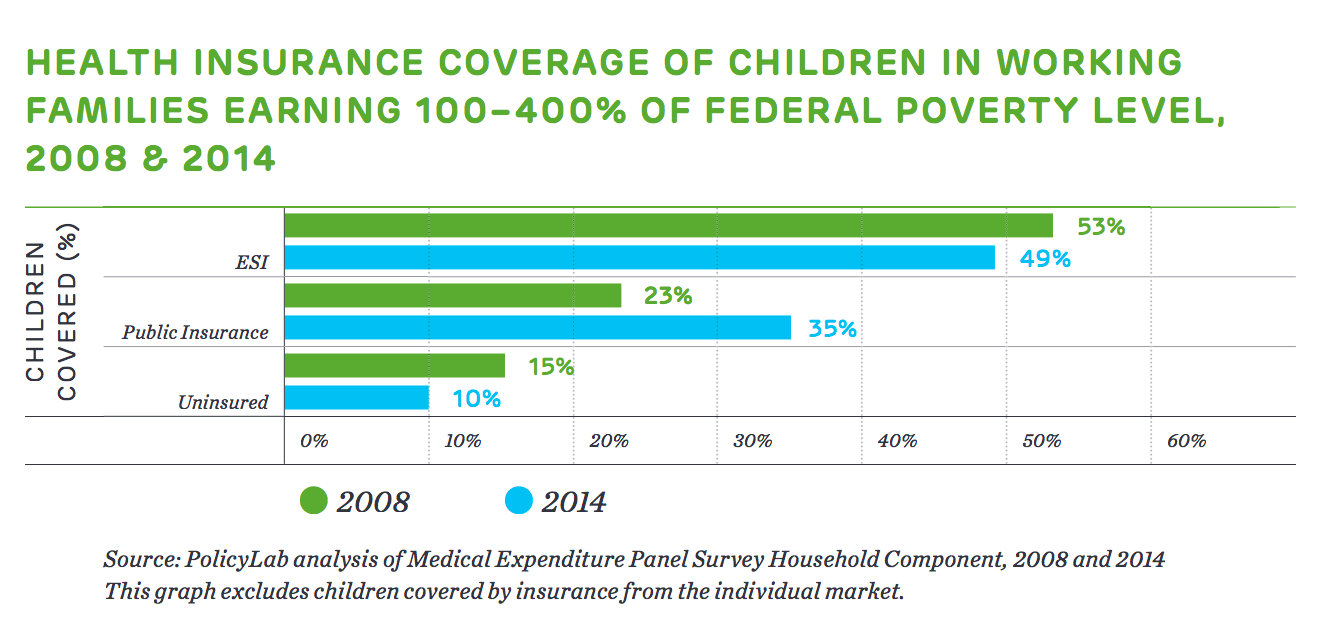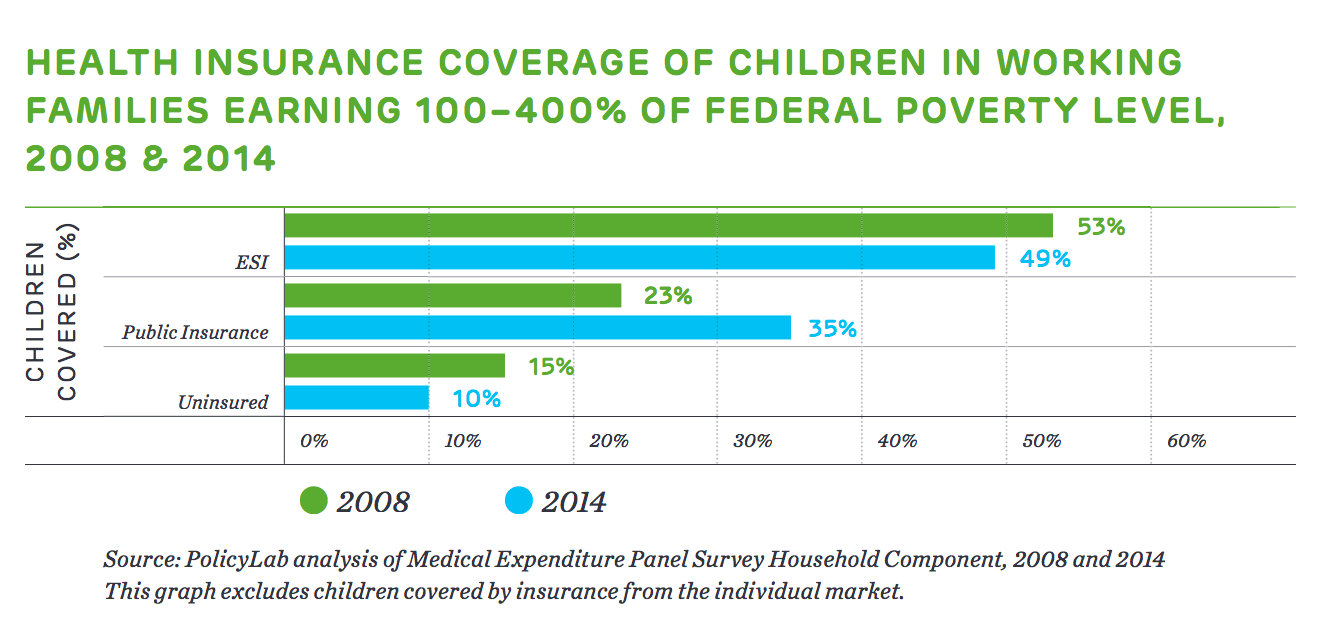 Today, more and more low- and moderate-income working families (earning 100–400 percent of the Federal Poverty Level) are shifting their children to public insurance.
Our research aims to understand how both public and private insurance meet the health care needs of children and families. Last year, PolicyLab researchers utilized survey data to understand how changes in state CHIP programs impacted patients and families' access to and experiences with health care providers. Overall, families with public insurance are more likely to report that their plans meet all of their children's health care needs. We found that Medicaid and CHIP programs provide preventive medical and dental care at higher rates than private insurance plans for families with low to moderate incomes. Out-of-pocket costs were highest for families receiving private insurance, lowest for those receiving Medicaid, with those receiving CHIP closer to Medicaid than private insurance. While there is room for improvement in public programs regarding services for children with special health care needs – one in four families reported trouble accessing this level of care – families with public insurance still reported greater access than those covered by private insurance.
Expanding on this research, PolicyLab examined the coverage rates for children from low- or moderate-income households in which at least one parent had employer-sponsored insurance (ESI) from 2008-2013. We found that low- and moderate-income families increasingly moved away from covering their children through ESI. In 2013, 15.2 percent of children in families with incomes of 100-400 percent of the federal poverty level (FPL), or $23,550 - $94,200, were not covered by their parents' ESI, but by public insurance offered through Medicaid or CHIP – an increase from 12.1 percent in 2008. This phenomenon of splitting insurance was greatest in families with incomes of 200-299 percent of FPL as, in 2013, roughly one in eight families in this income bracket insured their children through CHIP or Medicaid. Additionally, among families within this moderate-income bracket, we found an increase in uninsurance, likely due to more restrictive eligibility levels for CHIP and Medicaid in their states - early evidence of an erosion of the health coverage for children. 
Next Steps
PolicyLab's research and policy teams continue to investigate and work with key stakeholders to determine crucial policy levers to maintain and increase access to health care coverage for children and families. The ACA left open the question of how exchange plans would fit into a market in which CHIP and Medicaid already existed. With the possibility that CHIP's funding could lapse after 2017 and with the expiration in 2019 of the ACA's maintenance-of-effort requirements that currently prohibit states from reducing eligibility thresholds for Medicaid and CHIP, millions of families may have to decide whether they can afford to continue covering their children. Our research underscores the importance of preserving the comprehensive Medicaid and CHIP programs during this transformative time in our health care system, to ensure that eligibility for health insurance programs do not leave children and families without affordable or high-quality care.
Suggested Citation
Children's Hospital of Philadelphia, PolicyLab. Ensuring the Future of Health Care Coverage and Access for Children and Families [Online]. Available at: http://www.policylab.chop.edu [Accessed: plug in date accessed here].