Improving HIV Screening for Adolescents When They Go to Their Primary Care Doctor
Statement of Problem
The incidence of HIV infection is increasing among adolescents and young adults and now accounts for nearly 40% of new HIV infections in the United States. The American Academy of Pediatrics (AAP) and the Centers for Disease Control and Prevention (CDC) recommend routine HIV screening for all adolescents. Routine HIV testing is key to identifying youth living with HIV, linking them to appropriate care, and preventing new infections. The reasons for low rates of routine testing in adolescents are unclear, but multiple barriers exist for pediatric primary care providers. If we can better understand these barriers, then we can create interventions to work toward the goal of routine screening for adolescents.
Description
Improving HIV screening for adolescents when they go to their primary care doctor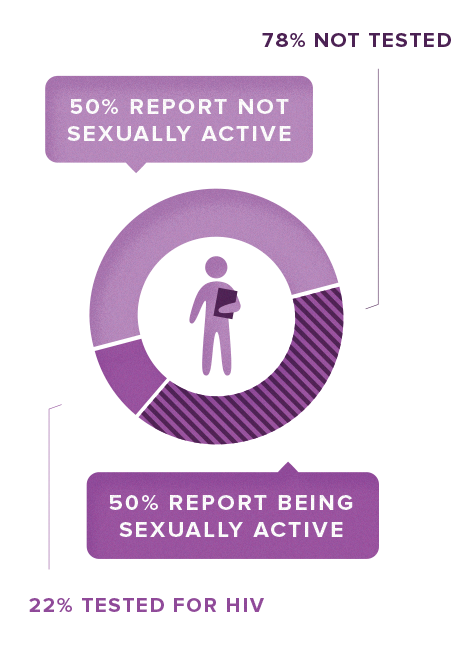 Almost 78% of youth who reported to be sexually active have not been tested for HIV.
This study aims to evaluate the current HIV screening practices among pediatric primary care providers (PCPs), as well as their knowledge and attitudes towards national HIV screening recommendations and state law. PolicyLab staff administered an anonymous survey to providers in 29 practices in the CHOP pediatric primary care network. The survey sought to identify barriers that exist for testing adolescents for HIV and to develop program and policy change across the institution to reduce these barriers.
Issues related to confidentiality and concerns about having ample time for test counseling and follow-up of results with the patient were the most commonly cited barriers. Providers requested more education on legal and ethical requirements around testing the adolescent and having confidential sexual health discussions without a parent present. Providers also identified that having access to an adolescent health educator would increase screening rates.
Next Steps
Dr. Dowshen and the Adolescent Initiative are now working with several practices throughout the CHOP network to address these barriers and improve screening rates. If you would like to learn more about the Adolescent Initiative and how you can support this work, please click here. 
Suggested Citation
The Children's Hospital of Philadelphia, Policy Lab. Improving HIV Screening for Adolescents when They Go to Their Primary Care Doctor [Online]. Available at: http://www.policylab.chop.edu [Accessed: plug in date accessed here].