How can Government Purchasing Practices Improve Public Health?
Statement of Problem
Increasing concern about obesity and other nutrition-related health problems has spurred governments to develop more robust and targeted approaches to foster healthier diet at a population level. Government routinely uses its regulatory power to alter activities and behaviors that influence public health, for example the New York City ban on the use of transfats in restaurants. Yet, in some scenarios, government may more effectively promote positive change through other means, including its purchasing or procurement authority. Emerging efforts using government purchasing power to stimulate demand for healthier products provides a pathway to healthier food purchasing.
Description
How can government purchasing practices improve public health?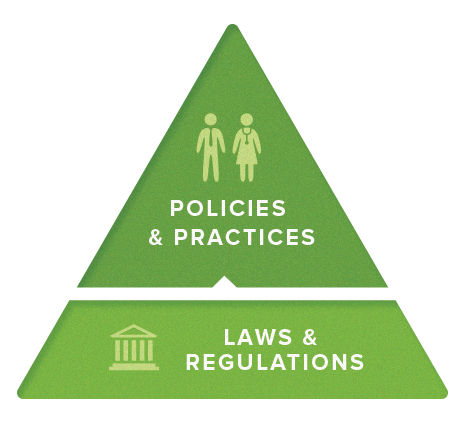 Laws and regulations are the foundation upon which practices and policies are created and implemented.
The legal and policy team researched innovative approaches to government purchasing, specifically around food and nutrition. For example, in 2008, New York City became the first major U.S. city to establish through Executive Order by Mayor Bloomberg nutrition standards for all foods purchased or served by city entities. In 2009, Governor Patrick of Massachusetts also mandated new food contracts comply with nutrition standards. Los Angeles offers a slightly different example of local governments' creation of new inputs at the Solicitation Formation stage of purchasing. Los Angeles generated new information through the implementation of an adapted Health Impact Assessment (HIA). These examples and others raised critical questions about how the purchasing process can serve as an incentive for vendors to change the products they create to meet new government standards, and subsequently result in healthier food available for consumption.  
Next Steps
Three primary policy recommendations came out of this research study:
Promote public-private partnerships to expand healthier food purchasing
Develop methods and tools for assessment and surveillance of outcomes of healthy procurement
Deepen knowledge of factors affecting healthy foods consumption and industry participation
Suggested Citation
The Children's Hospital of Philadelphia, PolicyLab. How can Government Purchasing Practices Improve Public Health? [Online] Available at: http://www.policylab.chop.edu [Accessed: plug in date accessed here].